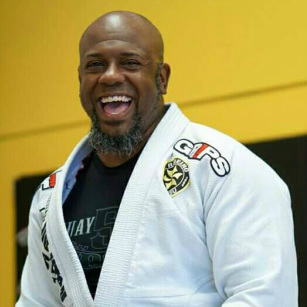 Rashad Brown, Head Coach
Coach Rashad's martial arts training began in 1994 when he was asked by the father of a date whether or not he could defend his daughter. Rashad paused as the father asked "why should I let you take my daughter out if you can't protect her?". Rashad realized he was truly unable to protect himself let alone a young lady. Luckily the young ladies father was a lifelong martial artist and took it upon himself to give Coach his first lessons in Karate. From 1994 to today Coach Rashad has trained in multiple martial arts always keeping self-defense as his main purpose for training. He lives by the principle taught to him by his college Isshinryu Karate instructor, "learn to fight first and then you can learn to play games". Learning to fight has safely brought him through a deployment to Iraq as a team and squad infantry leader and nine years as a police officer. He always tells people that he loves the sports of Muay Thai, Judo, and Brazilian Jiu-Jitsu, but never forgets that the foundation of his martial art is laid in self-defense.
Experience:
Combat Veteran (Iraq 2003-2004): Army Infantry
Police Officer: Newport News P.D. 2005-2014; Police General Instructor; Police Defensive Tactics; Police Ground Defense Head Instructor; Police Undercover Defensive Tactics Head Instructor
Served two years on SWAT Team
Junior Kru Muay Thai instructor under Sakasem "The Punisher" Kanthawong and Greg Smith of Bushido MMA
Black Belt in Isshin-ryu Karate under Anthony Gribble, 6th degree Black Belt and head instructor of Pirate Isshin-ryu at East Carolina University
Black Belt in Judo under Kenton Givens, Black Belt at Virginia Judo Association
Brown Belt in Brazilian Jiu-Jitsu under Pat Tray, owner and Black Belt at Trident Martial Arts
Level Two instructor in Modern Army Combatives

Level Three Krav Maga instructor in Fit To Fight Defensive Options
From The Ground Up Instructor, Fit To Fight
Sparology Instructor, Fit To Fight
Firearms Instructor, Conflict Kenetics. Trained Naval Expeditionary Combat Command sailors in small arms marksmanship.
Over 23 years of experience in different Martial Arts such as Shotokan Karate, Tae Kwon Do, Jeet Kune Do, Kali, Catch Wrestling, Boxing, and Pekiti Tirsia
---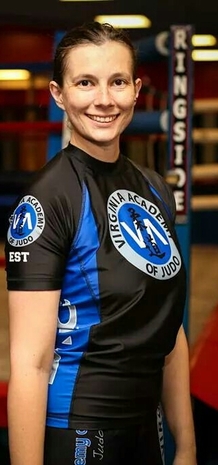 Crystal Brown, Coach

Coach Crystal became interested in Martial Arts when she was a child, but she did not become serious about training until eight years ago. Coach Crystal has a Blue Belt in Jiu-Jitsu from Ben Eaton, owner of the Jiu-Jitsu Institute, a Green Belt in Muay Thai from Greg Smith, owner of Bushido MMA, and a Yellow Belt in Judo from Kenton Givens of Virginia Judo. Coach Crystal is also an elementary school teacher who has spent the last four years working with special needs children. She uses her education and experience as a teacher and martial artist to help guide our Little Warriors children's program as a coach.




---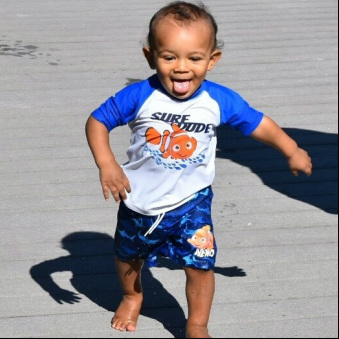 John Connor Brown,
Leader of the Resistance
John has spent his first year on the mat training and preparing for Judgment Day. He has his sights set on the destruction of Skynet and the survival of all mankind. When he is not training he spends his time making Mommy smile and napping with Daddy on the couch.












---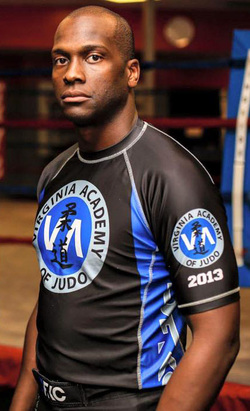 Sensei Kenton Givens,
Judo and Combatives Coach
Coach Kenton's martial arts training began in 2000 when he enlisted into The United States Marine Corps where he learned Linear Infighting Neural Override Engagement (L.I.N.E.) training and then Marine Corps Martial Arts Program (MCMAP). From 2000 to today Coach Kenton has trained in multiple martial arts always keeping self-defense as his main purpose for training. For 11 out of his 15 years as a Police Officer he was assigned to special operations and he was also a lead Defensive tactics instructor. He has worked in uniform patrol, K9, and the city jail. Sensei Kenton is also a former Marine (yes we know once a Marine always a Marine) who deployed to Iraq in 2003 as a crew chief assigned to combat engineers and various other special assets. Kenton is currently a Nidan (2nd degree Black Belt in Judo), Purple Belt in Brazilian Jiu-Jitsu, a certified police Defensive Tactics instructor, a police General Instructor, MCMAP green belt, and a Modern Army Combatives Program Level 2 instructor. Sensei Kenton is still an active instructor at the local police academy.


---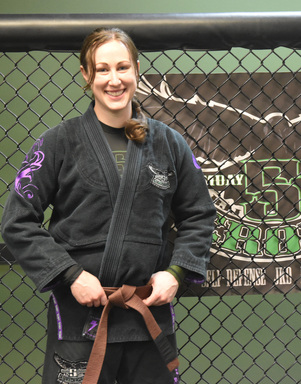 Coach Kat Walzak,
Judo/ Jiu-Jitsu, Muay Thai and Krav Maga Coach


Coach Kat originally began training in the Martial Arts to learn self-defense. In 2003, she began training in both Taekwondo and Kempo Karate under Professor L.C. Collins Jr. After six years, Coach Kat received her Second Degree Black belt and served as an coach in the school. In 2007, Coach Kat began training Jiu Jitsu and received her blue belt from Royce Gracie in in 2008. For the next three years, Coach Kat trained and consistently traveled and competed as a blue belt in Brazilian Jiu Jitsu under Phil Hurst who is a black belt under Helio "Seneca" Moriera. She held a record of 13 wins and 0 losses in her division while she competed. In 2010, she moved to Lynchburg, Virginia, and began training at the Edge Martial Arts and Tumbling with Troy Champney and Wil Dorsett. Coach Kat received her purple belt from Royce Gracie early in 2011, and served as a Coach at The Edge for three years. In 2013, Coach Kat moved to the Hampton Roads and has been a member of Five Crow since it opened in 2014. She recently received her Brown Belt in Judo from Sensei Kenton Givens, and received her Brown Belt in Jiu Jitsu from Pat Tray in May of 2017. Over the years, Coach Kat has had the opportunity to train with many noted individuals to include Royce Gracie, Helio "Senca" Moriera, Carlson Gracie Jr., Rodrigo Gracie, Samuel Braga, Eric Paulson, Ajarn Buck Grant and Sifu Pat Tray. In addition, Coach Kat is currently a Police Detective, and is a Strength and Conditioning Coach for the police department. She is a Cross Fit Level 1 Trainer, a police general instructor, and is very involved in the department's defensive tactics program.


---